The New York Declaration and Leaders' Summit on Refugees, one year on - NGO briefing to Member States - Tuesday, 19 September 2017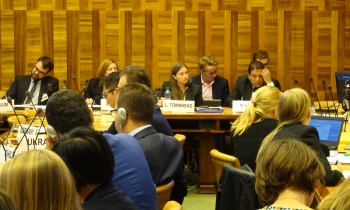 On 19 and 20 September 2016, UN Member States made important commitments for refugees and migrants through signing the New York Declaration.  Exactly one year on, QUNO's Laurel Townhead (Human Rights and Refugees Representative) joined other NGO representatives in an open briefing to member states to assess the achievements of the Declaration and the processes underway to deliver on the commitments made.
Organised by ICVA, the event focused on how the two global compacts that the Declaration called for can be drafted to produce effective agreements.  Laurel focused on the global compact on safe, orderly and regular migration, expanding on our call for this to be ambitious, effective and human rights based. An ambitious global compact would result in more being done to protect the rights of migrants and help shift the narrative about migration as a problem or a danger.
An effective global compact would recognize the existing human rights standards and contain actionable commitments based on these standards and follow up mechanisms that further their implementation.  (See our paper on follow up and accountability mechanisms; http://www.quno.org/resource/2017/6/towards-human-rights-based-global-co...) 
A human rights based global compact would be built on the existing legal framework in international human rights law and have improving human rights protection as its principle aim. See the key messages on human rights from a civil society group; http://www.quno.org/timeline/2017/9/key-messages-human-rights-based-glob...
Laurel finished by noting that whilst this will not be an easy negotiation there are domestic constituencies around the world who are offering alternatives to hate and distrust and who expect more and better from their governments. 
The event was well attended by diplomats and NGOs and presented a valuable opportunity for dialogue around the global compacts, reiterating the need for the international community to approach this issue with a sense of urgency.    
QUNO also delivered a statement with a similar message at the Human Rights Council on Monday 18 September (see below).
Related Files
Related Areas of Work