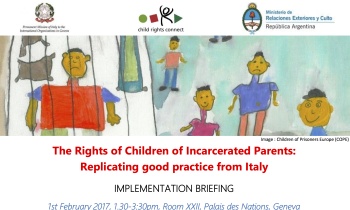 QUNO organized a panel event, "The Rights of Children of Incarcerated Parents: Replicating good practice from Italy," that took place at the UN on 1 February 2017. The event was hosted by the Permanent Missions to the UN of Italy and Argentina, and the Child Rights Connect Working Group on Children of Incarcerated Parents. 
The Italian NGO Bambinisenzasbarre signed a Memorandum of Understanding with the Ministry of Justice and the National Ombudswoman for Childhood and Adolescence, aimed at the fulfilment of the rights of children of incarcerated parents throughout the country. Steps are being taken to replicate this good practice in other countries. The event highlighted how this Memorandum and the partnership behind it work in practice, how this is being replicated in Argentina and lessons for replication in other States seeking to protect the rights of these children. 
Further information is available in the invitation flyer below.
Related Files
Related Areas of Work