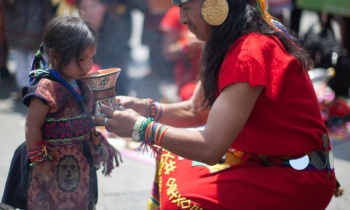 QUNO, together with the World Council of Churches and Religions for Peace, co-hosted a side event on the human rights impacts of anthropogenic climate change on 10 December 2014, during the 20th Conference of the Parties to the United Nations Framework Convention on Climate Change (UNFCCC) in Lima, Peru. 
The increasing impacts of anthropogenic climate change are a grave danger to humankind and nature, severely jeopardizing human rights and life on Earth. Drawing from a joint letter by the UN Human Rights Special Procedures mandate-holders to the UNFCCC, the event aimed to galvanize debate around actions necessary to strengthen respect and promotion of human rights in climate negotiations.
Joining the panel were Hilal Elver, UN Special Rapporteur on the Right to Food; the Rev Henrik Grape, from the Church of Sweden; John Knox, UN Independent Expert on Human Rights and the Environment; and Victoria Tauli-Corpuz, UN Special Rapporteur on the Rights of Indigenous Peoples. The discussion was moderated by Yves Lador, of EarthJustice.
Photo: A Quechua priest gives a ceremonial sip of chicha, a fermented maize drink, to a young girl during the Global March for the Climate on Dec 10th. More than 15,000 people took part in the Climate March in Lima while the UN climate talks were taking place. Credit: Lutheran World Federation/Sean Hawkey
Related Links
Related Files
Related Areas of Work